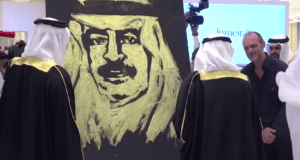 It is in the Persian Gulf that the glitter painter Michael Raivard has once again made a name for himself. During an exceptional speed painting performance in Bahrain in the city of Manama, the artist achieved another magnificent performance.
Opening of the Jumeirah Royal Saray Hotel
The show took place for a national event. The opening of the hotel Jumeirah Royal Saray, 77 luxurious rooms, 7 suites and a high-end and trendy restaurant atmosphere that will soon become the new hot spot of the city. This sumptuous hotel is the initiative of the highly respected Khalifa bin Salman Al Khalifa, current Prime Minister of Bahrain. The latter made it known that he had never seen such a show, he asked to get closer to the artist to congratulate him and thank him for the realization of his portrait.
Initiative of the current Prime Minister Khalifa bin Salman Al Khalifa
The glitter painting show took place on the night of February 27th in front of more than 20 people dazzled by the magic of the glitter. The atmosphere was private and majestic with animations throughout the evening like traditional dancers, singers, poets…
Thank you to the team of assistants and organizers for your welcome and professionalism.